StopSlavitt.com: End the collusion of Big Government and Big Insurance!
Messages Sent So Far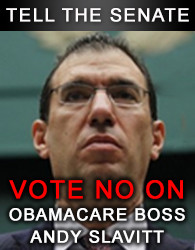 President Obama has nominated long-time United Health Executive Vice President Andy Slavitt to become the top Obamacare bureaucrat as administrator of the Centers for Medicare & Medicaid Services (CMS), after Marilyn Tavenner resigned from that position to become the health insurance industry's top lobbyist.
Health insurance companies like Slavitt's make billions from Obamacare's subsidies and the mandate requiring all Americans to buy their products. When he joined the government last year, Slavitt pocketed $4.8 million in tax free income and then made another $7.2 million selling company stock. The $12 million cash out is no surprise when you consider that United is the nation's largest insurer in terms of revenue, with 40 percent of its operating revenue coming from CMS programs.
Despite the blatant conflict of interest in a health insurance exec supposedly regulating his own industry, the Obama administration has granted an "ethics waiver."
Slavitt has already said he will do nothing to recover billions of taxpayer dollars that were wasted on failed Obamacare exchanges and co-ops. And he's already on the job as "acting administrator," so Senate inaction is just as bad as confirmation.
TELL THE SENATE: SCHEDULE ACTION ON ANDY SLAVITT AND VOTE NO!
First, Enter Your Zip Code