STOP Obama's illegal insurance company bailouts!
Messages Sent So Far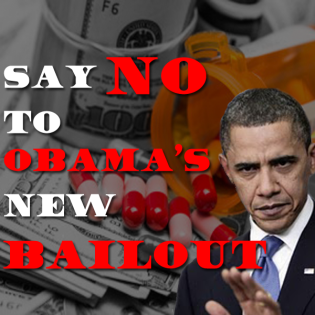 UPDATE 10/14/16: The House of Representatives has filed legal action to STOP Obama's illegal insurance company bailout!
Tell Congress to support the amicus brief AGAINST Obama's outrageous bailout, and STOP any efforts to channel taxpayer dollars to Obamacare insurers!
President Obama has been using our tax dollars to prop up his failed healthcare law.
UPDATE: As Obamacare crumbles, insurance companies are begging for EVEN MORE taxpayer bailouts to keep them in the game. Bloomberg reported Aetna's CEO said point-blank they will only stay with permanent direct corporate bailouts. The threat level has never been higher.
The Obama administration's Centers for Medicare and Medicaid Services (CMS) collects "reinsurance fees" when individuals purchase health insurance plans. These punitive taxes amount to billions of dollars each year.
While the law explicitly states that $3.5 billion of this money must be returned to the U.S. Treasury for deficit reduction, the Obama administration has diverted it to insurance company bailouts for the last two years.
Separately, a program called "risk corridors" looked like it was going to be transformed from a budget neutral program into a backdoor bailout -- until Congress passed language in 2014 specifically prohibiting payments in excess of program revenues. But now the Obama administration is conspiring with the insurance companies to sidestep that prohibition by inviting and deliberately losing a $5 billion lawsuit -- all at taxpayer expense.

Tell Congress to STOP these Bailouts IMMEDIATELY!
First, Enter Your Zip Code