Stop IRS from Seizing Private Donor Lists!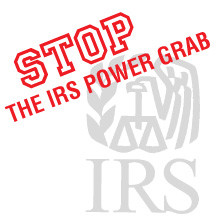 The IRS used to mandate that nonprofit groups hand over a list of their major donors and the amounts that have been contributed. Of course, they claimed they would keep this information confidential, but on numerous occasions, these donor lists were leaked to the public or allegedly used inside the IRS to target conservatives.
President Trump quickly rolled back these regulations after taking office; however, a liberal judge reversed the decision and forced a new public comment period.
In just days, the IRS will close the public comment docket on a proposed rule that would finally officially end the practice of forcing organizations like ours to hand over our donor lists.
Click here to tell the IRS to STOP its attempt to seize private donor lists!
First, Enter Your Zip Code