No federal gas tax hike!
Messages Sent So Far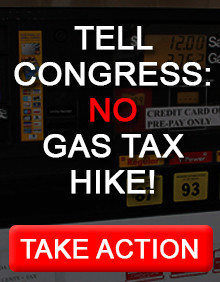 There are now bipartisan bills in the House and Senate that would steeply raise federal gas taxes. These bills have broad support from Washington insiders, both business groups and union bosses who want more of our money.
It's up to us to fight back!
The Corker-Murphy Senate bill would raise the tax 12 cents a gallon. The Renacci-Pascrell bill in the House would create a new super committee that could raise taxes, and would impose a similar tax hike of 12 cents or more if the super committee fails. Tom Rice's bill has a 10 cent hike.
All these bills would also set the tax to increase automatically every year.
TELL Congress: Vote NO on any federal gas tax hike!
First, Enter Your Zip Code