HouseStandStrong.com: No Lame Duck Tax Hikes
Messages Sent So Far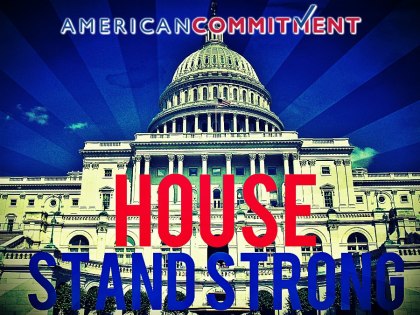 President Obama was narrowly reelected, but the American people did not vote for tax hikes. In fact, one of Obama's major campaign themes was the claim that Romney wanted to raise taxes. The 2012 election was a status quo election; Obama was returned to the White House, but Republicans retained the House because the American people want them to continue to exercise a check and balance.
The strong House opposition to tax hikes was vindicated, not rejected, by the election.
Moreover, given the extraordinarily weak economic recovery the country faces, it would be an enormous mistake to raise any taxes and risk tipping the economy back into recession.
Please sign below to tell your Member of Congress: "We urge you to stand strong against any tax hikes in the lame duck session."
Public Comments
Jan 30th, 2018
Someone from King Of Prussia, PA writes:
Hello, I recently visited your website and wanted to comment on how nice it looks. We work with businesses like yours to create a unique marketing / promotional video that tells the story of your business, proven to quickly attract new visitors and customers to your site. The short video below shows exactly what this custom-made video can do for your company: http://www.video1us.com/?wemail=americancommitment.org Visit today and we'll send you a Free 2 page marketing report for your website. If you do take time to view it, I'd love to hear your thoughts. Thank you. Susan Miller Client Support Manager Your Video Spokes 860 First ave. King of Prussia PA, 19406 If you received this commercial message by mistake, I apologize. To prevent any future correspondence please visit: http://optout-site.com?site=americancommitment.org
Jan 16th, 2018
uuyaenpp t. from San Francisco, CA writes:
Jan 16th, 2018
Someone from San Francisco, CA writes:
Nov 7th, 2016
Cheryl T. from Church Hill, TN signed.
Apr 21st, 2015
Darrell P. from Everett, WA writes:
He will only use it to support Illegal Aliens or Pour it into ObamaCare, both of which are money pits and useless.
Oct 29th, 2014
Bridget S. from Asheboro, NC signed.
Jan 6th, 2013
Lisa H. from Weirton, WV signed.
Dec 31st, 2012
Ron H. from Gilmer, TX signed.
Dec 30th, 2012
John L. from Somerset, NJ signed.
Dec 30th, 2012
GLORIA D. from Garland, TX signed.
Dec 28th, 2012
Candace B. from Bolivar, MO writes:
Dec 28th, 2012
nadine h. from North Myrtle Beach, SC signed.
Dec 28th, 2012
Eugene J. from Ripon, WI signed.
Dec 28th, 2012
Glen L. from Canton, NY signed.
Dec 26th, 2012
lana w. from Lansing, MI writes:
Just start doing what's right. That's what you get paid to do!!
Dec 26th, 2012
jim k. from Bridgeview, IL writes:
no tax hikes we need to lower taxs
Dec 24th, 2012
Herbert B. from Dunedin, FL signed.
Dec 22nd, 2012
Michael J. from Bethel Park, PA signed.
Dec 22nd, 2012
Jim L. from Salem, OR writes:
We, the American People, already pay enough taxes. As Representatives of the People, make NO tax increase for any American! America would be helped if there are tax cuts for all and REAL major spending CUTS. All federal legislators and employees need to be under the same retirement and healthcare systems as the citizens they serve.
Dec 20th, 2012
David H. from Fredericksburg, TX signed.
Dec 19th, 2012
Barbara M. from Jasonville, IN writes:
Please stand strong. We have a big spending problem which should be the talk of negotiations. We have NO solution by giving in to tax hikes.
Dec 19th, 2012
Chad A. from Marion, VA signed.
Dec 19th, 2012
Chad A. from Marion, VA signed.
Dec 19th, 2012
Manuel S. from Hobbs, NM writes:
" stop Congressman BOEHNER lower taxes by 5% across the bord. AND STOP meeting with behind close doors with democrets ..... " YOU are there in congress be cause we put you there . NO TAX HIKE DEMOCRETS DO NOT LIKE IT THAT IS TO bad stop playing games with them. lat themfall on them self on fiscal drop os the nation can se who is wrong.
Dec 19th, 2012
Manuel S. from Hobbs, NM signed.
Dec 18th, 2012
Frank F. from Jeffersonville, IN signed.
Dec 17th, 2012
Someone from Lake Alfred, FL writes:
We are already paying for all of your salaries, vacations, entertaining, and oh yes, your wonderful retirement, and insurance that is not Obamacare. Cut out the wasteful spending, take a pay cut, give up your wonderful retirement that you don't earn and give the money back to the government for the fiscal cliff and leave us alone.
Dec 17th, 2012
Someone from Clearwater, FL writes:
Just say no to taxes and look for ways to cut spending.
Dec 17th, 2012
Mark H. from Mankato, MN signed.
Dec 17th, 2012
Ellen K. from Tecumseh, NE signed.
Dec 17th, 2012
Alfred M. from Phoenix, AZ writes:
Our Public Serpents are the cause of all our problems. We gave them law to obey written in the Constitution and they won't obey them. Why? So they can keep themselves more raises for job well done? They all need pay cuts.
Dec 17th, 2012
Jerome U. B. from Fort Loramie, OH signed.
Dec 17th, 2012
Julia S. from San Diego, CA signed.
Dec 17th, 2012
Carlton 'Vance' W. from Wilsons, VA signed.
Dec 17th, 2012
Donna R. from Youngstown, OH signed.
Dec 17th, 2012
Doreen M. from Oakmont, PA signed.
Dec 17th, 2012
Susan K. from Reading, PA writes:
Spending is your problem, a budget is how we in America live, many week to week, don't give him unlimited spending, we can't afford any more debt, how about STOP THE ILLEGALS FROM GETTING WELFARE, THEY SHOULD BE KICKED OUT NOT GIVEN REWARDS, and don't go after SOCIAL SECURITY AND MEDICARE, Americans have paid into these programs for years
Dec 17th, 2012
Charles S. from Claverack, NY signed.
Dec 17th, 2012
Kevin O. from Englishtown, NJ writes:
4 years without a balanced budget,sending our tax dollars to fund our enemies, Uncontrolled spending, where are the Jobs? you cannot tax your way out of a depression, Stop the Madness now!
Dec 17th, 2012
Aarika T. from Pittsburgh, PA signed.