Don't let the Georgia government restrict our 1st amendment rights!
Messages Sent So Far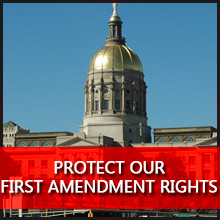 There was a great victory for free speech in Georgia when SB127 crashed and burned.

Just hours before the 2015 session ended the bill included language that mirrored Chuck Schumer's federal DISCLOSE Act that would force nonprofit organizations to disclose their member lists if they criticize public officials.

It's intimidation and it has one purpose: to undermine First Amendment free speech and free association rights and chill dissent.

Unfortunately, House Speaker David Ralston tried to defend these restrictions even after they had been defeated. And he promised to bring it up again next year.

Tell your elected officials there is no place for this type of legislation, now or ever, in the state of Georgia.




First, Enter Your Zip Code