KeystoneXLNow.com: No more excuses!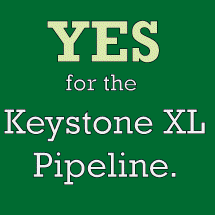 The Obama administration is still stalling Keystone XL pipeline! If Obama rejects the pipeline or stalls it to death Canada will likely ship their oil to Asia by tanker instead. It's an affront to millions of Americans out of work and an outrage to millions more who are paying higher energy costs as a result of this administration's policies.
You can have a voice: The State Department is required to accept public comments on their latest Supplemental Environmental Impact Statement. The crazy lefties are already pouring in comments to give Obama an excuse to kill the pipeline. We must push back by filling the official State Department docket with comments demanding they stop stalling and approve the Keystone XL pipeline now!
At stake are about 20,000 immediate jobs, a secure supply of North American oil, billions in private investment, and the global efficiency benefits of connecting a major crude source to the world's most efficient refining center. It's unbelievable that rather than simply say "yes," Obama is still stalling.
Fill out the form below to send an official comment directly to the State Department!
Post Public Comments
Public Comments